I suppose this is technically dressing not stuffing since it cooks outside the bird, but you won't care because this stuff is delicious!
Many people in my family eat gluten free to help address a number of health issues, but that doesn't mean they want to give up foods they love. I'm not a big fan of refined grains, regardless of whether they are gluten free or not. That's because those grain based complex carbohydrates are easily turned into simple sugars simply by chewing! Those blood sugar spikes and subsequent falls end up as a roller coaster of blood sugar imbalance leading to crankiness, cravings and often eventual weight gain and insulin resistance.
Don't get me wrong I like a touch of sweetness. The addition of apples and dates gives that sweet contrast to all the savoury spices while providing much needed fibre to slow down absorption of those naturally occurring sugars.
With this recipe in my repertoire no one has to feel they are missing out, nor do we need to rely on grains at all so we can stay off that roller coaster of up and down blood sugar.
I'll warn you right now, there is no substitute for the eggs in this recipe, so it's vegetarian but not vegan. Trust me, I tried! I'll be eating this vegan stuffing since it works with my current auto immune food plan.
The base of both of these stuffings is vegetable rich. That trusted trinity of onion, carrot and celery just lights up the pleasure centre in my brain when I smell it.
This is one of those recipes you can go ahead and cook the day before so you have more time with your company. It reheats well. I've used both a parchment lined pan, lightly greased, to prevent sticking and my crock pot. You'll want to cover the stuffing so it doesn't dry out.
This recipe is basic. If your traditional stuffing has cranberries, chestnuts, or different spices, go ahead and add them, just be careful not to add too much liquid.
I used the food processor since it makes for speedy food prep. If you don't have one, or prefer a chunkier stuffing, go ahead and chop by hand. I'd mince the dates before soaking if you opt to do this.
Perhaps this stuffing will make it onto your table this holiday season. If it does, share a photo!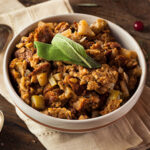 Print Recipe
Paleo Stuffing
Ingredients
3

cups

onion, peeled and quartered

2

cups

celery

1

cup

carrots, peeled

1

cup

apple, peeled, cored and quartered

4

Medjool dates, pitted and soaked, then drained

2

tbsp

olive oil, butter or coconut oil

2

tsp

parsley, dried

2

tsp

sage, dried

2

tsp

thyme, dried

½

tsp

sea salt

¼

tsp

freshly ground black pepper

3

eggs

2½

cups

almond flour
Instructions
Preheat oven to 350*Line a cookie sheet with parchment paper.

Add vegetables, apple and dates to the food processor, pulse until finely chopped and resembling rice.

Add 2 tablespoons of oil to a large saucepan over medium heat.

Add chopped vegetable blend and herbs, then sauté over medium heat for about 5 minutes. Remove from heat.

In a large bowl, lightly beat eggs. Stir in vegetable blend.

Add almond flour to the bowl and mix well.

Spoon mixture evenly onto cookie sheet.

Bake 30 minutes then mix to fluff slightly.

Continue baking for 15 – 30 minutes.