We recently held a staff holiday potluck dinner. As you might imagine we have a wide variety of food allergies, intolerances, dietary goals, and preferences. Our food choices allow us to feel our very best, and at our dinner party it is encouraged to bear this in mind while planning and preparing the dish you will bring. When I am preparing food and planning menus, I strive to be as inclusive as possible. I want to delight those I'm serving, both with the food, and the care I have taken to keep their dietary needs in mind.
For me, it's not a proper holiday season without turkey, stuffing and cranberry sauce! I wanted to be sure to include ALL of our staff in my preparations. Now, turkey is turkey and there's no vegan substitute for it that I could imagine, but stuffing was something I was ready to tackle!
Almost 10 years ago, when I learned I had a sensitivity to wheat, traditional stuffing was something I knew I'd miss. In the years since, I have used kamut (it's a wheat, but not one that caused me issues), then experimented with gluten free, and finally moved on over to grain-free. I even tried a meat-based paleo stuffing one year. It was tasty, but not the same.
This year, I have been playing with a meatless, paleo, and grain-free stuffing recipe with good result, and thought I would try making a couple more adaptations to that working recipe. I added riced cauliflower and mushrooms to bulk things up, and add some extra savory flavour. I picked up a couple of important trios: onion, carrots, and celery; along with parsley, sage and rosemary.
My favourite thing about this recipe, is that I can use my food processor to finely chop the ingredients. The finer the better for that "stuffing" texture — just don't blend completely. The food processor certainly makes quick work of the prep. If you aren't lucky enough to have a food processor, chop finely by hand, or take advantage of the "riced cauliflower" that seems to be everywhere in grocery stores these days.
The result of my experimenting was well received, and I was encouraged by my colleagues to share the recipe with everyone — and that includes you!
Let us know in the comments below if this recipe hits the spot for you!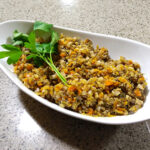 Print Recipe
Vegan Stuffing
Ingredients
3-4

tbsp

organic olive oil

1

large

organic cooking onion (approx. 1 cup), peeled and quartered

2

large

organic carrots (approx 1 cup), peeled and chopped into 2 inch sections

8

oz

organic mushrooms

1

head

organic cauliflower (approx. 4 cups) roughly chopped

1

organic Granny Smith apple, cored, peeled and quartered

½

cup

organic cranberries

1

pinch

sea salt

1

pinch

ground black pepper (omit if AIP)

¼

cup

finely chopped parsley

2

tbsp

finely chopped rosemary

1

tbsp

chopped sage
Instructions
Using the chopping blade in your food processor, add onion, carrot and celery. Pulse until finely chopped (resembling rice). Be careful not to overdo it, you don't want to blend it completely.

Heat olive oil in a large skillet over medium heat. Add chopped vegetables to the skillet and sauté until soft, 5 – 6 minutes.

Using your food processor, pulse mushrooms until finely chopped, then add to skillet. Mix to combine.

Add cauliflower to food processor bowl and pulse until a riced consistency is reached, then add this to your skillet, mixing to combine.

Add chopped apple and cranberries to your food processor and roughly chop. Add these to your skillet along with salt, pepper and herbs. Mix to combine, then cover.

Cook 10 – 15 minutes until completely tender and most liquid is absorbed.