Have you ever woken up, looked at your calendar and wondered where in the world you were going to get the energy to do all the stuff you had in your schedule? Just me? I didn't think so. You'll know then how my mind was already mentally scrolling for something easy and filling to make for breakfast.
It does not get too much easier than these Keto Eggvocados! Once I filled the kettle, so I could brew myself some tea, I turned to the cutting board. In a snap I had my breakfast tucked in the oven before my tea was even finished steeping and I was off to shower while they baked.
Fifteen minutes later, with a warm up of my tea, I was tucking into a healthy breakfast that would keep me going for hours before I even needed to think about food again. I'm always reminding people that to feel fuller longer they should include a good fat or quality protein, along with their fruit or veggies, at each eating opportunity. These babies have all that and more!
Vitamins and Minerals
Avocados, since they are a plant (technically the fruit of the avocado tree) are very nutritious, containing a respectable amount of over 20 different vitamins and minerals. These include Vitamin K, important for wound healing, maintaining blood vessels and bone health and more potassium than a banana helping to maintain a healthy metabolism, immune system and electrolyte balance in the body for starters.
Fat
Avocados are also loaded with good fats. 77% of its calories come from fat but most of it is a monounsaturated fat, known as oleic acid that is linked to all kinds of benefits including being heart healthy and a solid defence against switching on some genes that are linked to cancer.
Fibre
That gorgeous green flesh is great source of fibre too, another key for slowing digestion to hold onto that full feeling, and it feeds your friendly gut bacteria. These probiotics plus fibre mean healthier bowels! Fibre from avocado has been shown to lower "bad" LDL cholesterol and triglyceride levels while increasing "good" HDL cholesterol.
Protein
While avocados do contain a little plant protein, the eggs are the powerhouse in this recipe. Each egg provides a 13 grams of protein. So many body system utilize proteins that it's easy to see why quality protein is essential to our overall well being. Consider that enzymes, such as those for digestion, energy production and cellular activity, hormones that control blood sugar, appetite and metabolism, neurotransmitters as well as muscle, connective tissue and our very own DNA are made up of very specific proteins. Oh, and eat the yolks! Unless you have a genetic disorder, you can likely eat up to 3 eggs a day with no negative impacts.
Whether you're on a Keto diet, or just looking for a breakfast that will sustain you — I hope you enjoy this quick, easy, super filling and fueling breakfast idea.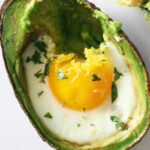 Print Recipe
Eggvocado
Instructions
Slice avocado in half. Remove the pit and discard. Scoop out a little flesh from each half to make room for the eggs. Place face up on a baking sheet.

Crack an egg in each half of the avocado and place in the oven to bake for 10-15 minutes depending on how runny you like your eggs.