I woke up reminiscing about deep fried apple fritters soaked in warm, fresh, local maple syrup. Growing up and raising a family in the Waterloo Region, the first Saturday in April has long been a day to look forward to the Elmira Maple Syrup Festival. With all that is going on in the world right now, that was just not an option.
I opened the cupboard to gather the ingredients for pancakes instead, and saw tigernut flour. If you don't know tigernut flour, it's lovely, a titch sweet because it's a little root veggie, and bakes up fluffy. I'd bought it to make AIP onion rings from Flash Fiction Kitchen, and I wondered, could I use a similar, sweeter version of batter to make a coating for apples?
The answer, my friends, is a resounding yes!
I would recommend eating these right away. I popped a couple from the first batch in the oven to see how they would keep warm and the apple cooked a bit too much and was mushier than I prefer.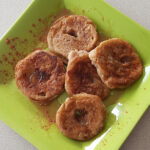 Print Recipe
AIP Apple Fritters
Ingredients
2

granny smith apples

1/4

cup

cassava flour

1/4

cup

tigernut flour

1/4

cup

arrowroot starch

(or tapioca starch)

1/2

tsp

sea salt

1/2+

tsp

cinnamon, divided

(optional)

1/2

cup

maple water

(or coconut milk)

1

Tbsp

olive oil

1+1

Tbsp

maple syrup, divided

(optional)

1/2-1

cup

coconut oil

(for frying)
Instructions
Mix flours, salt and cinnamon (if using) in a medium size bowl to combine.

Make a well in the centre of the flour mixture and add the maple water, olive oil and 1 Tbsp of maple syrup (if using). Stir to combine and set aside.

To prepare the apples, cut a thin slice off the top and bottom, this should be mostly peel. If you have an apple corer, now is the time to use it, coring both apples. Slice each apple into 6 equal rounds. If you don't have an apple corer, go ahead and use your knife to remove the core from each slice. Lay apple slices on a paper towel and cover with another to dry the slices. Set aside.

In a cast iron pan, heat 1/2 cup of coconut oil over medium heat. Oil should be at least 1 cm deep. Once oil is hot, coat the first batch of apple slices in batter, and gently place in the hot oil. Use care to keep a space between. Fry 3 – 5 minutes, until lightly browned. Turn carefully, and cook another minute or two to brown the other side. Remove from oil with a slotted spoon to drain, and set aside on paper towel or a cooling rack. Continue cooking in batches until all the apples are fried.

Serve with a sprinkle of cinnamon and a drizzle of maple syrup.